Gotham City Traction Dioramas
The thinking behind the Town & Country Traction Company began in the early 1990's when various modular approaches to HO trolley modeling were tried. In 1994, construction of the T&CT Co. Gotham City module began in earnest. Although six modules, or dioramas, were planned, only four were fully developed. These modules include: Gotham City - completed 1996; Upper Gotham - completed 1998; East Gotham - completed 2000; Gotham County - completed in 2003; Uptown Gotham and West Gotham were abandoned when the four built modules were donated to the Charlotte Trolley Museum.
All modules are set in circa 1925. A description of each follows:
Gotham City represents a small city with moderately large (3 - 4 story) city buildings served by the City Line of the T&CT Co. The module is currently populated with 151 people, 25 cats, dogs, horses and pigeons, 28 cars, wagons and trucks, and 18 modeled buildings, most with lighting and some interior detailing.
Upper Gotham, represents an average upper middle class residential community, also served by the City Line of the T&CT Co as well as some interurban services. The module contains typical residential area homes, church and school building and includes 129 people, 12 cats, dogs, horses and pigeons, 18 cars, wagons and trucks, and 12 modeled buildings, most with lighting and some interior detailing.
East Gotham module includes the T&CTCo Car Barn and Power House as well as factories of the industrial district. The module contains 43 people, 21 dogs, horses and pigeons, 14 cars, wagons and trucks, and 9 modeled buildings, most with lighting and some with inside detailing.
Gotham County module contains rural scenery as well as the Gotham Electric Park which includes a carousel and bathing pond. The park represents a typical "destination" for Sunday trolley trips. The carousel is lighted and rotates while the calope plays the requisite merry-go-round music.
Uptown Gotham module is a necessary "corner" module, not constructed in the standard 2' x 4' format. It represents the taller buildings of uptown Gotham. The track, streets and buildings are "roughed out" but more detailing is underway.
West Gotham is a module under construction. It will represent trolley freight interchange with the Erie RR. (Details to follow)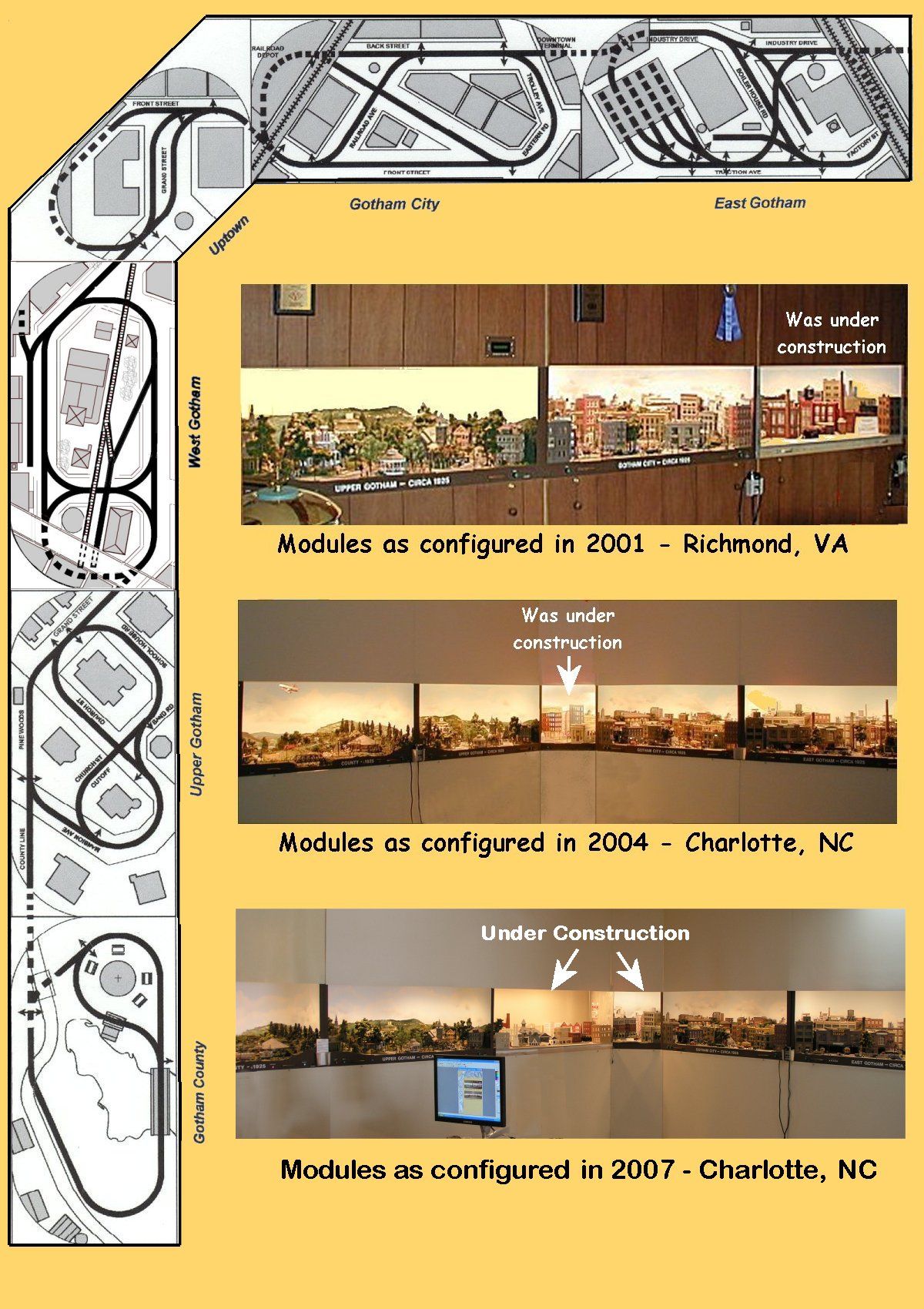 The modules are constructed as "standalone" dioramas. Each contains three sided complete wrap-around backdrops. Provision is made in all modules for track access from module to module. Each module is 24" by 48" with a backdrop 20" high. The base is constructed of wood frame and a plywood and Homesote surface. The backdrop and it's support is all aluminum. Use of light weight materials is preferred including foam board and light weight patching plasters.
All street track work is constructed from Richard Orr's girder rail and single point switch castings. This provides for authentic looking trolley rail if somewhat oversize. City street curves are 6 ¼" radius representing a prototype 45 ft radius. Street paving is done with patching plaster and Holgate and Reynolds brick sheet as appropriate. The street surface is intentionally left a bit lower than the rails to enable non-destructive track cleaning.
The T&CT Co equipment runs with overhead power. Both rails are bonded together for maximum pickup. The overhead wire is strung with a combination of nickel-silver and phosphor bronze wire. Trolley wire supports make use of various commercial lost-wax castings. Detection blocking is accomplished with insulated overhead wire sections.
All T&CT Co. operational equipment is fitted with Digitrax DCC decoders. Most equipment uses the Digitrax DN140 but some smaller equipment uses the DZ120. A standard Digitrax system (Big Boy plus additional controller equipment) are used for "manual" control and WinLok is used as the PC control software for "automated" operation or augmentation. Digitrax DS54 Accessory decoders are used in each module for switch and detection controls. CVP's AD4K accessory decoder is used in the Power Control Box for additional non-LocoNet controls.
Each module is wired with connection sockets at both ends to pass Track and Light Power as well as the LocoNet between modules. Fascia (edge mounted) push buttons are also provided on each module to "manually" control the track switches. (The switches are also controlled via DCC handheld throttles or WinLok automation.)
The effect of the setting Sun and rising Moon are enhanced by building and street lights. Sounds have been added to add that additional dimension. Church bells ringing in the distance, the wail of a railroad steam engine, the band striking up "Washington Post" in the suburban bandstand as the Sun dims, are all part of the Gotham City scene. The extensive modeling detail, multiple car trolley operations, enhanced by the light and sound automation, has really brought Gotham City to life for me. And all this in a collection of portable 2' x 4' modules.